The cloud-based software company Salesforce is building its new building in Sydney which will open over 1,000 new jobs.
Salesforce officially announced the Salesforce Tower Sydney which will be open in 2020. Salesforce first introduced the Tower Sydney and later announced the details. The company is planning to hire 1,000 new employees over the next 5 years.
The Sydney Tower is the latest addition to the Salesforce Tower family which includes San Francisco, Indianapolis, New York, Atlanta, and London. Being the world's #1 CRM solution, Salesforce continuously shows its commitment to customer success, commitment to the community, and its talented employees.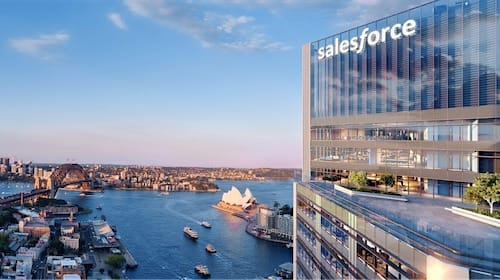 The Salesforce Tower Sydney is said to be the catalyst in attracting and retaining the best talent. Elizabeth Pinkham, EVP of Global Real State at Salesforce said, "We're incredibly excited to bring all of our regional employees under one roof right in the heart of Sydney's central business district, Circular Quay. Slated to open in late 2022, Salesforce Tower Sydney will stand 53 stories tall and will be the tallest office building in the city with iconic views of the Harbour Bridge, Opera House and beyond."
"Salesforce Tower Sydney will be one of the most sustainable office campuses in Australia," She added.
The said 53 stories Tower Sydney will also be one of the tallest buildings in the city. According to the company, the Tower is a way of Salesforce to consolidate the presence of the company in the city.
"I am also really proud that Salesforce Tower Sydney will also be one of the most sustainable office campuses in the city. The building has achieved Sydney's first-ever WELL core and Shell Platinum pre-certification, the highest obtainable pre-certification, and will achieve a 6 Star Green Star Design and As-Built rating, representing world excellence in sustainable design," Pinkham said.
Stuart Ayres, Minister for Jobs, Investment, Tourism and Western Sydney also commented on the new building saying, "We are focused on building and growing this sector in NSW and 1000 new tech-focused jobs in an iconic building located in Circular Quay will continue to drive this growth."
Pinkham ended her blog saying, "I look forward to welcoming you all to our new home in ANZ in 2022. It promises to be a space where we can truly showcase our values as a company and continue to serve our customers and our community."