Apple continues to extend its arms to support the fight against COVID-19 – donating 20 million face masks worldwide and is producing face shields.
Following the launch of the COVID-19 website and app, Apple has donated 20 million face masks worldwide. The tech giant also began to mass-produce 1 million face shields per week amid the shortage of protective equipment for health workers.
"Apple is dedicated to supporting the worldwide response to COVID-19. We've now sourced over 20M masks through our supply chain. Our design, engineering, operations and packaging teams are also working with suppliers to design, produce and ship face shields for medical workers," said Tim Cook, CEO at Apple, in his recent post on Twitter.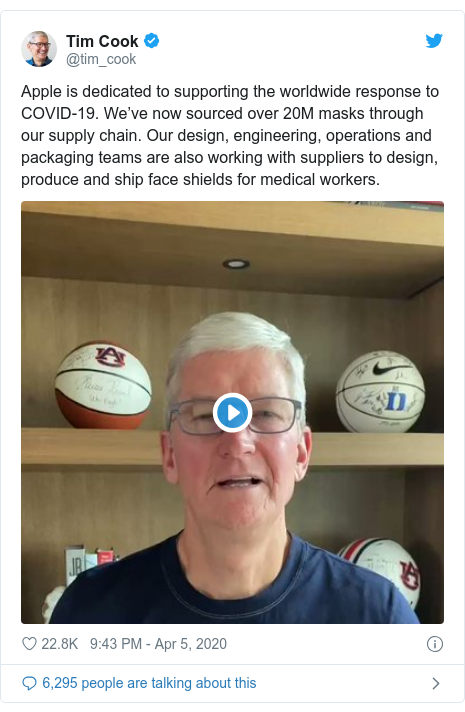 Last week, Cook said they have donated over 10 million face masks and have now risen to 20 million. 
"In these very challenging and difficult times, I hope you're staying safe well. Teams across Apple have been working hard on ways we can support our heroic frontline medical professionals, …"  Cook said in his video.
"This is a truly global effort, and we're working continuously and closely with governments at all levels to ensure these are donated to places of greatest need," said Cook in his video.
Apple is stepping up to help ease the crisis bought by the pandemic. The first shipment of its face shield was already delivered at Kaiser hospital in the Santa Clara Valley. "These pack flat. 100 per box. Each shield is assembled in less than two minutes and is fully adjustable. We're sourcing materials and manufacturing in the US and China," Cook stated.
"We plan to ship over 1 million by the end of this week, and over 1 million per week after," Cook added. Cook also said that they are hoping to quicken the distribution beyond the US.
"Our focus is on unique ways Apple can help, meeting essential needs of caregivers urgently and at a scale the circumstances require. For Apple, this is a labor of love and gratitude, and we still share more of our efforts over time."
Cook ended his video full of gratitude saying, "Thank you for all you're doing to help in your own life. Thank you again on those on the front lines of this fight. Stay safe and stay healthy."
See the full video here: