The UK has surpassed the 20,000 death mark – making them the fifth country to have the most COVID-19 death tolls across the globe. 
The world continues to battle against the coronavirus disease 2019 (COVID-19). With all the lockdown and preventive measures implemented by WHO, more and more people still catch the disease.
The U.K., one of the regions that have the most confirmed COVID-19 cases, recorded a grim milestone, as the U.K's death toll surpasses the 20,000 marks. There are 2,845,859 confirmed cases across the globe. 148,377 of these cases are from the United Kingdom alone which recorded 20,319 fatalities.
According to English hospitals, 813 patients have died in the hospital after contracting coronavirus within 24 hours. The UK's Department of Health and Social Care said, as of 5 PM on April 24, 20,319 of the COVID-19 patients were hospitalized and have died.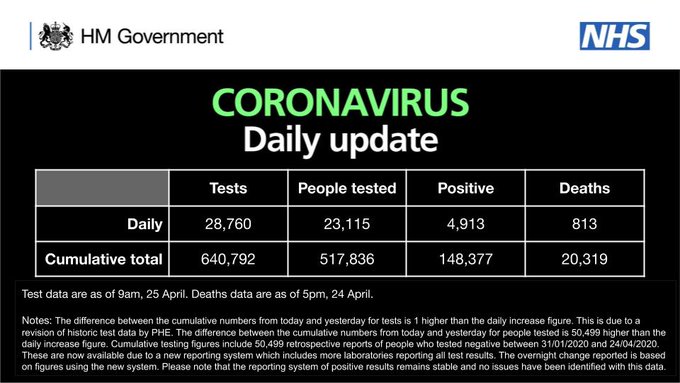 It was reported that Britain was slower to impose a lockdown than its European peers. Prime Minister Boris Johnson also contracted the virus and is still recovering. Until now, the government ministers have been struggling to explain high death rates, limited testing and shortages of PPEs for frontliners in the region.
"It will take some time, it may take many years, before the full effect of the pandemic is known in this country," Stephen Powis, medical director of the National Health Service (NHS) in England told BBC Radio.
"As we are now beginning to see a decline, a decrease, in the number of patients with coronavirus, it is absolutely the time to start building up our services again," Powis added.said.
The country has the fifth official COVID-19 death tolls in the world, after the United States, Italy, Spain, and France.