The Department of Transportation (DOTr) has shared physical distance guidelines in public transportations such as buses, jeepneys, and other PUVs.
Starting May 1, public transportation in moderate and low-risk areas under GCQ will resume operations at reduced capacity to ensure compliance with strict safety measures against COVID-19.
According to DOTr Assistant Secretary for the Road Transport and Infrastructure Mark Richmund de Leon, "Public transportation in the road sector will be available in areas declared under GCQ but we will strictly impose health safety standards at all times to ensure the safety of our drivers and passengers,"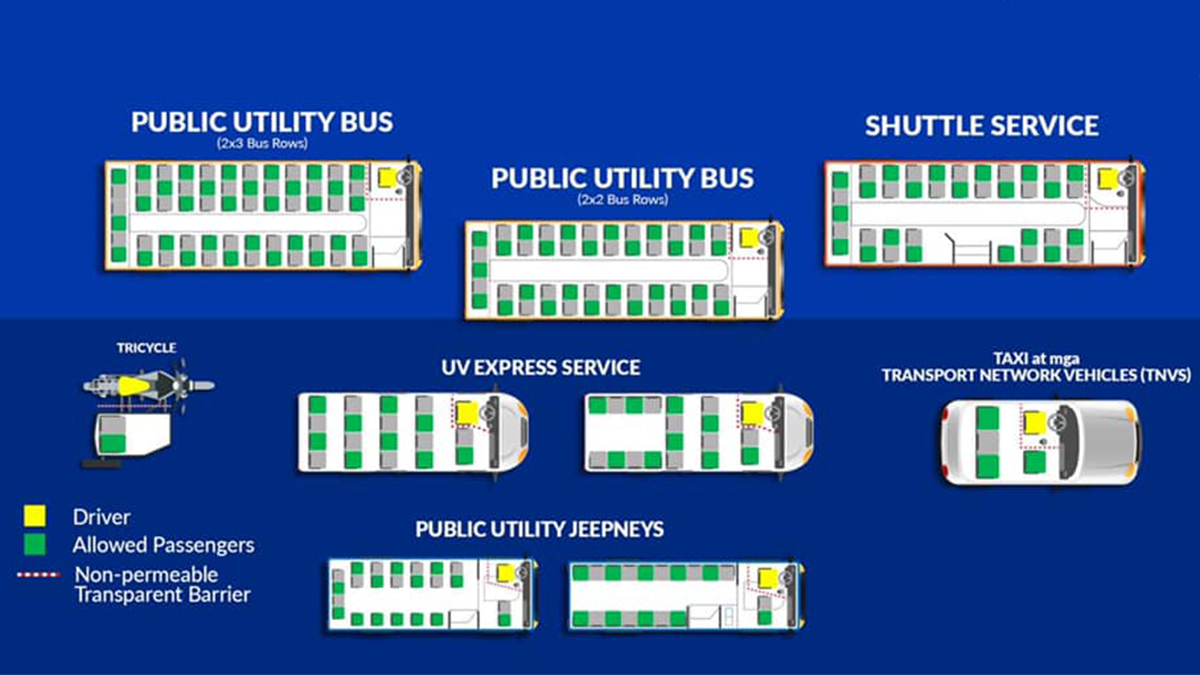 All permitted PUVs and transport terminals and operators must adhere to all three essential components dictated in the protocol/guidelines: Safety, Capacity, and Coverage/Scope.
Safety refers to reducing contact, transmission, and spread of the virus through the mandatory use of face masks and gloves for drivers. Thorough disinfecting practices of vehicles, terminals, and even among passengers are also required.
Capacity and passenger load factors will be required for each mode of transportation to ensure that physical distancing is followed. Public utility buses (PUBs) and public utility jeepneys (PUJs) should not exceed 50 percent or half of the vehicle's capacity, excluding driver and conductor. For UV Express and taxis, the passenger load should not exceed two passengers per row, except for the driver's row where only one passenger is allowed. Tricycles, on the other hand, must not exceed one passenger in the side-car, while back riding will not be allowed.
Private cars and motorcycles will be allowed to operate for the purpose of essential travels as defined by the Inter-Agency Task Force (IATF).
Cars will only be allowed one passenger to occupy the front passenger seat, while front-facing seats shall not exceed two passengers per row.
Motorcycles are prohibited from having back ride passengers. The use of bicycles and similar devices are also highly encouraged, and LGUs are also encouraged to identify bike-lanes or bike-only roads.
The LTFRB, LTO, I-ACT, and authorized personnel of the IATF against COVID-19 will conduct daily random inspections in terminals and depots to ensure strict compliance with the service, sanitary, and operational requirements of the guidelines.
"The DOTr is also calling for the help of enforcement agencies such as PNP and local government units (LGUs) to help ensure that social distancing and sanitation is observed in terminals and vehicles in these municipalities," says ASec de Leon. "Let us all do our part to safeguard the health of all drivers and commuters in the transport sector."
The protocols are ONLY applicable in areas under the General Community Quarantine period.